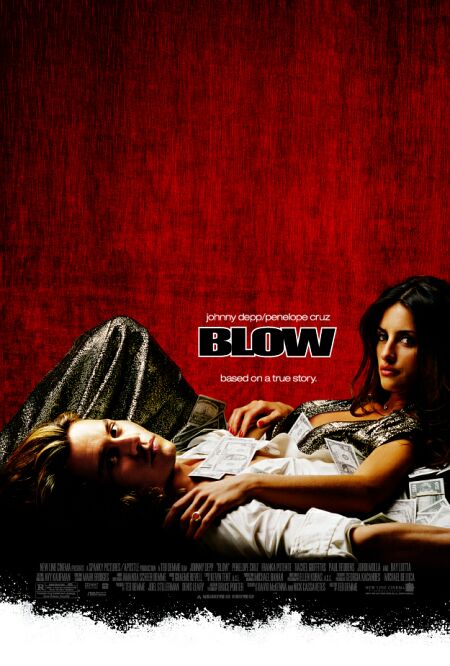 Based on a True Story

Jurassic Mark
SCORE: 1/2

Star

Blow is a poorly edited film. Blow is a poorly directed film. Blow is an utter disaster within its genre. It is derivative of director Martin Scorsese and writer Nicholas Pileggi. Scorsese and Pileggi teamed together for Goodfellas and Casino. Blow tries to mimic the narrative form of the aforementioned. With your best Brooklyn accent, say "forget about it." Blow is a shamelessly manipulative film with no sense of continuity, no energy, no one to care about and nothing to look at.
Blow is never believable. The film maintains that two unmotivated young men (played by Johnny Depp and Ethan Suplee) move to California, meet beautiful, bikini-clad women and become drug lords. At least Depp does. Suplee is dropped from the screenplay so fast, I forgot he was even in the picture. Likewise, Depp's first love goes "belly-up" with nary a tear shed. The only characters that appear on a regular basis are Depp's parents (Ray Liotta and Rachel Griffiths). Liotta does the epic age-makeup thing and manages to register absolutely no impact on Depp's life. Griffiths character does the opposite. Mom is a hysterical bitch who betrays her son (a big theme here) without substantiation and only because the screenplay says so.
And, what does this movie say about women? Depp's second love is played by Penelope Cruz. Cruz betrays Depp. She's a horrible person. Cruz is just another threadbare character designed by the writer (David McKenna) to make us feel bad for Depp. Cruz is an actress in the Melanie Griffith category. I can walk into Collin County Community College and find ten women just as pretty who can probably out-act Cruz. Cruz has a nice face, but a nearly anorexic body. Curves can't be found on a 90 pound frame. And, did I mention she can't act?
Depp and Cruz also have a daughter. Write her character off. She's just another manipulative toy to make us like Depp and wonder why such a great guy was never visited by his daughter after his imprisonment.
And, what about Depp? His only contribution to Blow is a Massachusetts accent and an annoying 1985 Bon Jovi haircut. With all the trouble the screenplay goes through to make his character look like a victim, one would never believe he actually sold "85%" of the cocaine during the late 70's and early 80's. Depp's character goes through a tumultuous emotional arc, but never breaks down or gives a shit or anything. And, did I mention he was a victim (big theme here).
I'm sad to report that Blow's director Ted Demme died the other day. He was 38. Demme was the nephew of director Jonathan Demme (Oscar winner for The Silence of the Lambs). The nephew died of a heart attack after a game of basketball. As of now, drugs have not been reported as a possible cause of death.