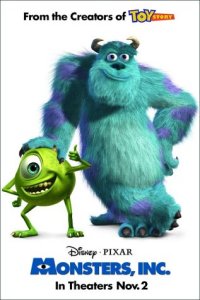 You won't believe your eye.

Jurassic Mark
SCORE: 2½

Stars

It's hard to criticize Monsters, Inc. The movie has a good heart. The animation is superb. John Goodman, Billy Crystal and child Mary Gibbs (in her film debut) voice loveable characters. The premise is sound. Yawn.

Monsters, Inc. confuses motion for action. It also has an abundance of tiresome slapstick (a difficult art form). I felt over-stimulated. If I were on amphetamines, I might admire Monsters, Inc. to a greater degree. Sans stimulants, I found the film's quieter moments more compelling.

Our plot: the city of Monstropolis is powered by the screams of children. Screams are like energy. The twist: monsters are equally afraid of human kids. It takes a bold monster to creep through a child's closet and elicit terror. Sulley (John Goodman) is just such an ogre. He's a sensitive soul, but he has a gift for scaring the crap out of humans. Sulley believes he has an admirable job. After all, children are widely conceived as monsters in their own right. Human children are rumored to have magical powers (laser-beam eyes, mind control, super human strength, etc.).

Events unfold, and a young girl enters Monstropolis with chaotic results. Sulley is eventually convinced the child "Boo" (Gibbs) isn't the evil stereotype he's grown up believing. This is great stuff, except too much of the movie is comprised of scenes where Sulley loses sight of Boo; Boo causes chaos and a lame chase scene ensues. I felt 75% of Monsters, Inc. was a lazy plot juxtaposed by frenzied visuals.

While Crystal gets top billing, this movie belongs to Goodman and Gibbs. They have the only chemistry going. I felt genuine suspense during the films lengthy final chase. Pixar has created a wonderfully imaginative chase involving portals between Monstropolis and Earth. And, I'm a sucker for the movie's final scene.

Monsters, Inc. is in no way a bad movie. I give it thumbs down because I have no desire to see it again. Nor, do I feel that Monsters, Inc ranks anywhere near the best of Disney, Pixar, or DreamWorks. If, however, you are an ardent Pixar fan, than the visual look of the film is worth the price of admission.