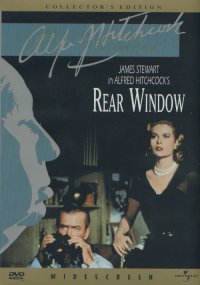 review by

Darth Buzz
Picture: 9
Sound: 6
Menus/Extras: 7
Overall: 8
Notes: WOW! Last time I saw this one was on VHS and the transfer sucked ass. It was a whole new world watching this DVD. The sound was as good as it's gonna get for 2.0 mono. If you like this film, run to the store and buy this DVD.
---
SCORE: 4

Beers

Let me start off by saying that my favorite black and white filmed movie at this very moment is the uberawesome movie by Jim Jarmusch, Dead Man. However, I must retreat a step or two before I ramble in order to properly review this flick. James Stewart. I don't know if I should say more than that simply because of what he is. One of the greatest actors known to this earth and in a movie that actually makes me want to go after a blonde. Murder in an apartment complex...Holy Shit, who did it? Why? These factors obviously do not apply to our 21st century where John boy 2 doors down plays a video game and goes out and caps off a bunch of crack whores because Sega made him do it... But I digress. Ramblings of this sort should be held in an entirely other forum. All I have to say is this movie is an old school thriller that everyone should enjoy.
---

Darth Buzz
SCORE: 10

This film is in a dead heat with Vertigo for me as the greatest Hitchcock film of all time. I don't need to ramble on and on just go see this movie right now. BTW Drunken Master, this movie is in color. Maybe you were a little too liquored up for this one. Go back and enjoy it like it was brand new.
---
AWARDS