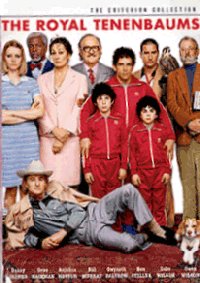 Family Isn't A Word... It's A Sentence.

Jurassic Mark
SCORE: 3½

Stars

Perhaps fifty of us watched The Royal Tenenbaums. Me and four strangers had a good laugh. I noticed the five of us didn't always laugh at the same time. Forty-five didn't laugh much at all. Sometimes I was the only person laughing. I found that amusing.

TRT is written and directed by Wes Anderson. Once again, Anderson collaborates with fellow Texans Owen and Luke Wilson. Like me, Owen and Luke are from Dallas.

I'm proud of this Texas triumvirate. They have there own thing going. First they collaborated on Bottle Rocket. Some critics loved Bottle Rocket. Few people saw it. The Texans followed up with Rushmore. Rushmore was a critical smash. It received a larger audience.

Still, I like TRT the best. It's not as funny as Bottle Rocket. Instead, TRT is the perfect balance between the humor of Bottle Rocket and the poignancy of Rushmore.

TRT is about a strange family of five. Royal Tenenbaum (Gene Hackman) may or may not be dying. He needs to reconcile with his wife and kids. Wife Ethel (Angelica Houston) raised their three children on her own.

Daughter Margot (Gwyneth Paltrow) is adopted. Like her siblings, Margot was a wunderkind. As a young playwright, she won awards. As an adult, Margot's talent seems to have dried up. She is secretive and cold. Margot silently rebels against the family. She's smoked cigarettes since she was twelve, but no on knows. Later, we find out Margot has searched for happiness in some rather unusual ways.

Chas Tenenbaum (Ben Stiller) was a financial genius at an absurd age. Father Royal once shot Chas with a pellet gun. Sounds kind of cruel? Yeah, especially since they were on the same team. Chas is openly hostile towards his dad.

Richie (Luke Wilson) is the most likeable of the Tenenbaum children. He was a successful tennis player until he had a nervous breakdown on the court. The scene is like many in TRT. If you're not laughing, you're either in the wrong mood or the wrong theater. Oh, and Richie is in love with sister Margot.

TRT is the most difficult of comedies. It's more than a little grim. The characters are beyond eccentric. Symbolism is tossed around liberally. Entire essays could be written on individual wardrobe selections.

But, if you like dark comedies, TRT is going to eventually suck you in. There's a priceless scene in a drug addict's apartment. The paintings on the walls are easily the worst paintings ever conceived. The art depicts nightmarish images of what appear to be zombies on riding lawn mowers. Then another wall features a cow's head with a lasso around one ear. I was in tears.

TRT is one of the best films of 2001. The rest of the cast includes the following: Bill Murray, Danny Glover and Kumar Pallana. Pallana (an Anderson favorite) steals several scenes. The underrated Alec Baldwin narrates.

Anderson handles his ensemble cast like a pro. Hackman again solidifies himself as one of the best American character actors, living or dead. This is not a whimsical or unreasonable statement. Houston made me wonder if she needs a new agent. Why isn't she up for these roles more often? It was good to see Houston again. It was good to see The Royal Tenenbaums.