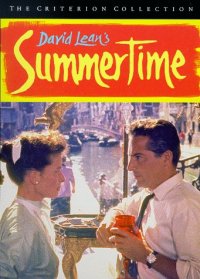 Jurassic Mark
SCORE: 3½

Stars

Summertime is a travelogue and something more than a travelogue. I've heard that present day Venice is a dirty city. People say the famous canals are more like open sewers and the city has lost its charm. My friends who travel to Italy have advised me to cross Venice off my vacation list.

But, I've always wanted to see Venice. Thanks to director David Lean (Great Expectations, Bridge on the River Kwai, Lawrence of Arabia) I can just watch Summertime. In many respects, Lean makes Venice look as magnificent as the dunes of Saudi Arabia in 1962's unforgettable Oscar winning epic.

Lean was lucky to be alive when studios backed the expensive Technicolor process. From the bright opening titles to the romantically restrained ending, Summertime can always be enjoyed purely as great cinema.

And, Summertime is also a great vehicle for Katherine Hepburn. She plays a single, middle-aged school teacher named Jane. She's lonely. She travels by herself. Jane is not a social recluse, but she is timid and suspicious of men. Summertime is about a woman who wants to conquer her inhibitions. For once, she allows herself to be seduced by a handsome local (Rossana Brazzi). The conflict in the film occurs when she discovers that he's married.

Venice will never look as good as it does in Lean's 1955 movie. Likewise, Hepburn (b. 1907) is finished as an actress. That's reason enough to enjoy Summertime.