Some original artwork by RC. (So you can get in touch with the REAL Randolph Carter.)

His continuing fascination with the Nazi Party.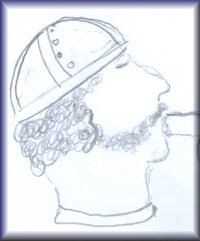 Oh my! Guess what he's sucking?
---
The latest Star Wars comments from RC.
I'm generally silent because I hate you fucking guys. Seriously, there's a major generation gap happening here and it seems to be getting worse. All this Star Wars force shit, working with fatties, and color scheme suggestions doesn't make a whole lot of sense to a man my age. Auschwitz Lad*, go back to your work at Toys "R" Us, or wherever the hell it is your employed, and leave me alone.
*Editor's Note: Auschwitz Lad is another name for Drunken Master.
---
Here's an e-mail I (Darth Buzz) got from Randolph Carter when he found out about the perks of working at Movie Pit.
I get my own office? Fuck me! I better start changing my ways and reviewing everything I can. Holy shit, my own goddamned office. I'll be reviewing a few just as soon as I finish bathing with Jesus. That may take a while.

Yours truly,

Curry Carter